Description
Bateri alat bantu pendengaran zinc-air jenama Interton (Rayovac). Sesuai untuk semua jenis alat
bantu pendengaran.
S13 (oren) – untuk ABP belakang telinga / dalam telinga
S312 (coklat) – untuk ABP belakang telinga / dalam telinga
S675 (biru) – untuk ABP belakang telinga berkuasa tinggi
S10 (kuning) – untuk ABP sepenuhnya dalam telinga
Satu peket: 6 biji bateri
Satu biji bateri: Untuk kegunaan 7 hingga 14 hari mengikut jenis alat bantu pendengaran.
Interton (Rayovac) zinc-air batteries. Suitable for all types of hearing aids.
S13 (orange) – for BTE and ITE hearing aids
S312 (brown) – for BTE and ITC hearing aids
S675 (blue) – for super power BTE hearing aids
S10 (yellow) – for CIC hearing aids
One packet: 6 battery pills
One battery pill can last from 7 to 14 days, based on hearing aids types.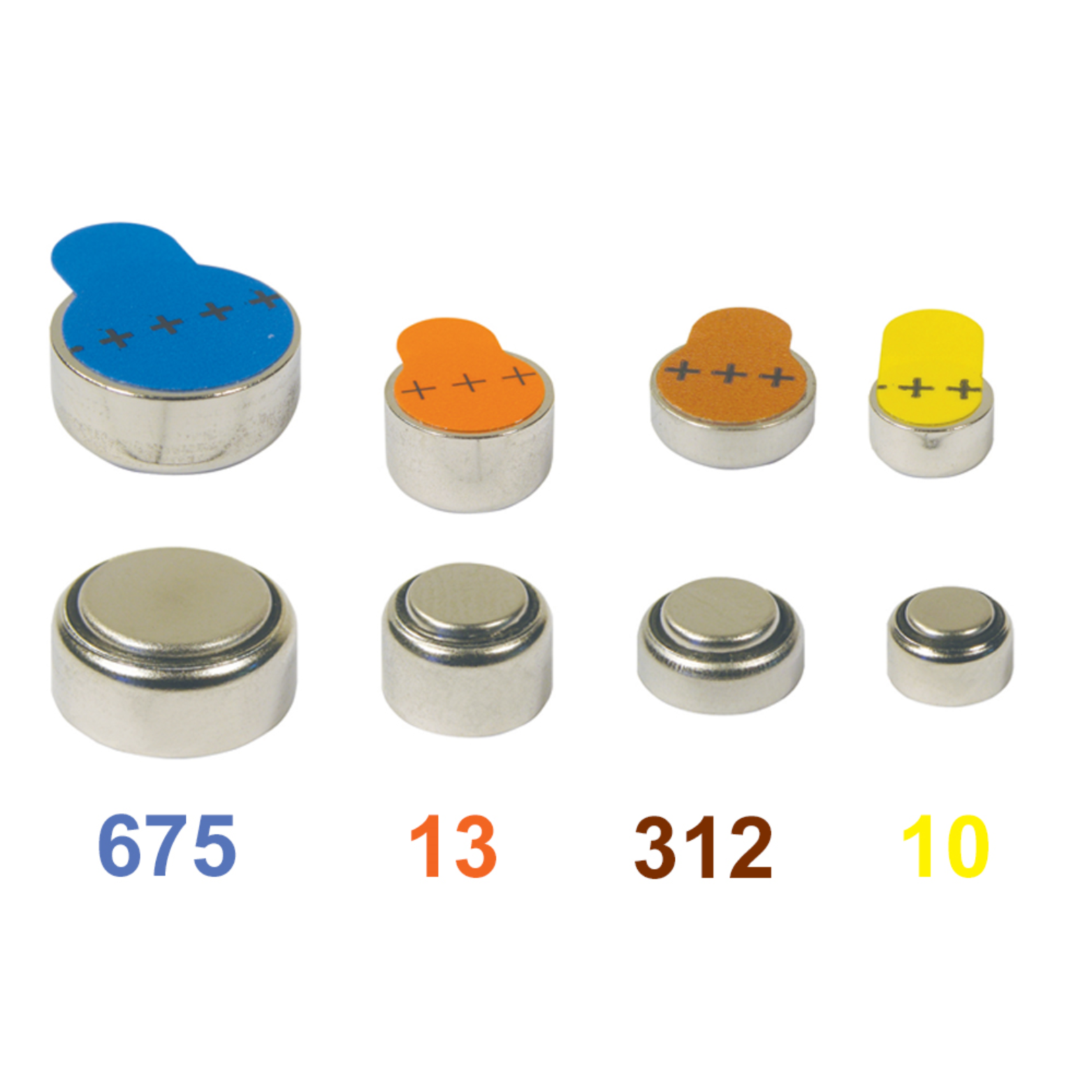 Interton's New Generation hearing aid batteries are the one of the World's Best Value. They are specially designed to operate longer while maintaining a higher operating voltage. Ideal for the latest digital hearing aid devices. Rated at 105mAh capacity and is one of the few manufacturers to offer a stainless steel housing and nickel plating to prevent rust or oxidation of the can. A high tech design, worth giving a try.
Zin Air Batteries 
Zinc-air batteries are air-activated, a sticker at the back of the batteries keeps them inactive until it's taken out. Oxygen will interact with the zinc in the battery once the sticker is removed and turn it on. To get the best out of a zinc-air battery, you are advised to wait a minute after removing the sticker to fully activate before placing it in the hearing device.
Please note that replacing the sticker will not deactivate the battery once the original sticker is removed. Therefore, when the sticker is removed, the battery will remain active until the power is drained out.
Zinc-air batteries remain in good condition and ready to be used for up to three years when stored in a room temperature, dry environment. Storing zinc-air batteries in the refrigerator doesn't give any benefits and rather it could possibly cause condensation to form under the sticker, which would reduce battery life prematurely. 
Sizes of batteries
Hearing aids come in many different sizes and styles and with different power needs. Larger hearing aids require larger batteries. Additionally, hearing aids for people with severe or profound hearing losses typically require more power and larger batteries.
There are four common sizes of hearing aid batteries available on the market. The sizes are: 10, 312, 13 and 675:
Size 10 – 5.8 mm wide by 3.6 mm high
Size 312 – 7.9 mm wide by 3.6 mm high
Size 13 – 7.9 mm wide by 5.4 mm high
Size 675 – 11.6 mm wide by 5.4 mm high
Because size differences may be hard to notice and difficult to remember, battery packaging is color-coded so finding and purchasing the correct ones is easier.
S13 (orange) – for BTE and ITE hearing aids
S312 (brown) – for BTE and ITC hearing aids
S675 (blue) – for super power BTE hearing aids
S10 (yellow) – for CIC hearing aids
Battery life
Hearing aid batteries can last on average for 7-10 days, based on a 16-hour day of wear. This is dependent upon the size of the battery and power needed by the hearing aid. Typically, smaller batteries have shorter battery life than larger ones.
If you are experiencing shortened battery life, there may be an issue with the hearing device. In this case, you should  contact us to make sure everything is working properly.
How to extend the life of a hearing aid battery
While there aren't any foolproof ways to extend battery life, these tips will ensure the power isn't being wasted.
Turn the hearing devices off when not in use and leave the battery compartment door open overnight. Not only will this help keep battery power from being wasted, it will allow any moisture that has built up from the day's use to evaporate overnight. 
To get optimal performance from your batteries, always store them at room temperature. Heat exposure and humid environments such as a bathroom will shorten battery life. Also, batteries shouldn't be carried loose in pockets, a purse or a backpack where they might come into contact with other metal objects like coins or keys that can short-circuit the hearing aid batteries.
Product's Features:
Suitable for all hearing aids
Long durability
1.4 V, Hg 0%
1 pack contains 6 batteries